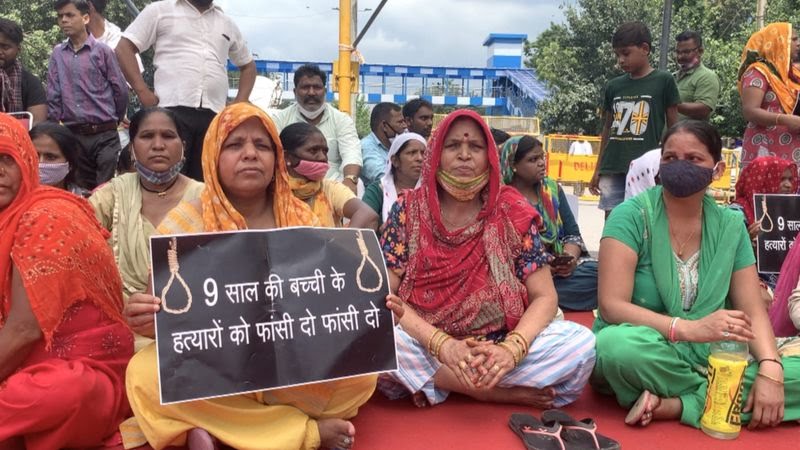 9-year-old girl allegedly raped, murdered in India !
Uproars are proceeding for the fourth day over the apparent gang rape, homicide and forced burial of a nine-year-old girl in the Indian capital, Delhi. The girl's parents have impeached a Hindu preacher and three others for assaulting her when she had left to bring drinking water from the crematorium's cooler.
Her mommy said that the entrances were close and she was coerced when she complained about her daughter's burial. Officers have reported prosecution of gang rape and homicide and charged the men.
The girl's parents are Dalits – earlier untouchables – who earn a living by begging outside a Sufi Muslim tomb located just across from the funeral ground in Delhi's Nangal region. The girl was their only kid. Her mum confided in me that on Sunday dusk, she had sent her daughter to bring water from the crematorium, just a few metres from their cottage.
"When she didn't withdraw for over an hour, I went scouring for her. At the crematorium, I found her lying on the floor. Her lips were dreary, there was blood under her nose, she had abrasions on her hands and limbs and her clothing was wet."
She mumbled the pastor and the three men instructed her not to phone the officer telling "they would argue on a postmortem and embezzle her parts and peddle them"
She asserted that they closed the entrances to deter her from fleeing, terrorized her and even paid her off. The kid's dad explained that by the moment he, along with about 150 citizens, entered the crematorium, their daughter's corpse was primarily charred.
The residents explained they phoned the office and drenched the pyre with water, but could only procure her limbs – which implies an autopsy examination to verify assault would not be reasonable.
A senior police officer asserted that based on the information from the parents, a lawsuit of gang rape, homicide and the forced funeral had been reported against the indicted.