It is anticipated that a bill will be introduced during the current legislative session that would exempt retired military veterans' pensions from income tax in Georgia.
Yellow ribbons, such as the one outside the Schneiders' home, are a visible symbol of support for the military. According to a recent report, veterans' families like the Schneiders may soon receive another sign of support from the Georgia legislature.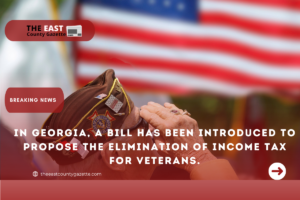 "This was the time period in which I went through basic training."
Paul Schneider was a member of the National Guard for twenty-four years.
"One tour after another just kept me going, and I stayed until I retired," says the veteran.
Paul, who is now retired and lives with his wife, Melinda, in Midway, says the potential legislation would be a welcome change in the community.
Read More: $366 Billion of COVID Aid Went Direct to the Wealthy's Pocket

"It's encouraging to know that it might actually happen this year."
Among those who have backed the legislation is Representative Al Williams (D-Midway), who is also a veteran.
According to Rep. Al Williams, "Anyone who is a military retiree, if they're drawing a military retirement check, there will be no taxes on their retirement income, and there will be no state taxes," he said.
This is welcome news for veterans like Paul, especially at this time of year.
"The rate of inflation is 7 percent. Even after adjusting for inflation, our cost of living allowance does not keep pace. It hasn't kept up with inflation over the course of the years."
Rep. Williams believes it would be a positive step for the state, which is home to approximately 700,000 military veterans.
"We will not have people leaving here solely for the purpose of retiring in a state that does not impose an income tax."
The bill is expected to be introduced in its final form next week.