Communities along the California-Mexico border continue to experience the impact of two intertwined international crises – the rapid influx and arrival of migrants seeking asylum and the ongoing spread of the highly infectious coronavirus.
The state has dedicated funding toward humanitarian services for asylum seekers who have been released from federal immigration custody since before the pandemic. Gov. Gavin Newsom is now proposing to add an extra infusion of money to those efforts.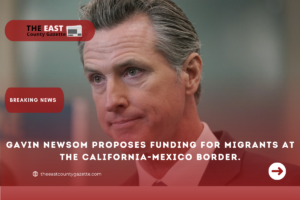 He has proposed allocating an additional $110 million towards vaccinations and testing of asylum seekers, as well as isolation and quarantine requirements in response to the COVID-19 pandemic.
The funding, which he announced in January, is part of a $2.7 billion COVID-19 response package included in the proposed 2022-23 budget. Some of the funds will also be used to expand statewide contact tracing.
"California's operations and partnership with the federal government ensure migrants released from federal immigration custody at the border receive COVID-19 testing and support services to ensure safe travel to their ultimate destination in the United States, where they will continue with their immigration proceedings," Daniel Lopez, the governor's press secretary, said in a statement.
"Through these efforts, California has advanced a state-run national model that protects the health and well-being of arriving migrants and our border communities," he said.
But the state funding, while critical, doesn't address the public health challenges migrants face on the Mexican side of the border, said Andy Carey, the executive director of the U.S.-Mexico Border Philanthropy Partnership, a binational organization that provides services to help the migrant population.
Newsom's office estimates that the funding to support migrant shelters had provided services for nearly 96,000 migrants as of Feb. 7.
But some advocates say many more migrants exercising their international right to seek asylum have been denied entry into the U.S. and sent back to Mexico, leaving them vulnerable to contracting the virus and without access to critical services.
"There's a lot of money that's been set aside for services in the United States, but the problem is still largely on the other side of the border," Carey said. "And Mexico is still in a very delicate situation with COVID-19 because there's been a huge delay to give people access to the vaccine."
MIGRANTS AT CALIFORNIA BORDER LACK HEALTH SERVICES
The state funding also supports the provision of primary critical services — including medical screenings, medication and prescriptions, temporary sheltering, meals, case management, and transportation for onward travel, among other resources — at three shelters operated by local government agencies and nonprofit community organizations.
One is in Imperial County and two are in San Diego County. The Jewish Family Service of San Diego operates one of the shelters receiving state funds.
Between 60 and 180 migrants arrive at the shelter daily and stay for up to 48 hours, unless they need to be quarantined due to COVID-19, according to Kate Clark, an attorney for the organization and the senior director of immigration services.
Clark said the additional state funding will continue to support the shelter's efforts, adding that Newsom had developed a deep "understanding of the challenges that we're facing."
Often, migrants are fleeing state-sponsored violence, abuse, gender-based violence, or political persecution. Prior to arriving at the shelter, many endured squalid and substandard conditions in migrant camps along the Mexican side of the border or in U.S. immigration facilities, she added.
Many migrants in Mexico are often unvaccinated against COVID-19 and lack access to personal protective equipment, testing, medical services, or health care. Many arrive at shelters with untreated medical conditions or diseases such as chickenpox or the flu.
Pregnant women also arrived without having had access to prenatal care. "A lot of times we see families with very, very young children that have endured horrific circumstances in their home country and through their travels to the United States," she said.
"It's not until they're with us for the first time that they start to see hope." The pandemic has only complicated an already harrowing situation, she added. "A value of Jewish Family Services is to welcome the country's newest arrivals," Clark said.
"Our goal is making sure that public health is protected and to do that with dignity and respect is important."
MIGRANTS REMAINING IN MEXICO FACE CHALLENGES
Yet state funding will have little impact on conditions that jeopardize migrants' health while in Mexico. The rapid deportation of migrants at the border is due to Title 42, a public health policy put in place in 2020 under former President Donald Trump that the Biden administration has since upheld.
The policy, which federal officials say was implemented to prevent the spread of COVID-19 in border facilities and the U.S., requires that all migrants who cross the border be "expelled to their country of last transit."
Since January 2021, the Biden administration has expelled and denied entry to migrants at the border more than 1.5 million times due to this policy, according to U.S. Customs and Border Patrol data.
And under the Migrant Protection Protocols program, commonly referred to as the "Remain in Mexico" policy, border officials send migrants to Mexico while they wait for their cases to be heard in immigration court.
The Biden administration in October 2021 attempted to terminate the Migrant Protection Protocol program, citing humanitarian concerns, but a court order in December required the federal government to reimplement the program.
Federal officials have since stated that the government will "continue to vigorously contest the ruling," though it's unclear what that means for migrants who are still waiting in Mexico. For many migrants, both of these policies mean they're stuck in Mexico, waiting for entry into the U.S.
But in the case of those expelled under the Title 42 policy, they're unable to request asylum or humanitarian aid. "These policies have forced them to stay on the other side and there aren't programs, services, organizations, or anything to take on the thousands of people that are there," Carey said.
"It's created a huge problem." Still, several COVID-19 protocols remain in place while migrants are being held in custody, said Jackie Wasiluk, a Border Patrol spokesperson in California.
Migrants who are awaiting processing are provided with personal protective equipment "from the moment they are taken into custody" and are required to wear masks at all times, she said.
Border Patrol officials do not test newly arrived migrants, but the agency works with local public health departments, non-governmental organizations, and U.S. Immigrations and Customs Enforcement to facilitate the "testing, diagnosis, isolation, and treatment of migrants" upon their release, she said.
For now, advocates say they're investing as many resources as possible to help the migrants who do make it across the border. Dulce Garcia is the executive director of the San Diego-based nonprofit Border Angels, which advocates for immigration reform.
She supports the governor's proposed funding for migrant shelters but said more needs to be done to address the needs of migrants waiting in Mexico. "We know that for cities in the County of San Diego, Tijuana is an extension of our community," she said.
"Immigrants are some of the most vulnerable among us. Any resource that can go to saving a life is a resource well spent."