Earlier this week, a federal jury found Percy Leroy Jacobs and Sandra Denise Curl guilty of conspiring to defraud the United States and assisting in the filing of fake tax returns.
U.S. Attorney for the District of Maryland Erek L. Barron, Acting Deputy Assistant Attorney General Stuart M. Goldberg, and Special Agent in Charge Darrell J. Waldon of the Internal Revenue Service – Criminal Investigation, Washington, D.C. Field Office announced the convictions today.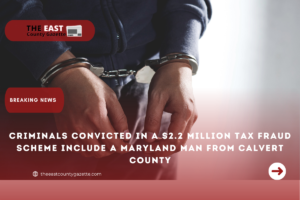 Curl and Jacobs allegedly filed tax returns on behalf of various bogus trusts they owned between 2013 and 2016, claiming rebates to which they were not entitled, according to evidence given at trial.
As a result of this scheme, Curl and Jacobs received refunds on the fake tax returns they submitted under their own names. Defendants attempted to cheat the IRS of more than 2.2 million dollars in fraud in all,
In addition to the maximum punishment of five years in jail for conspiracy to defraud the United States, Curl and Jacobs face three years in prison on each count of aiding and facilitating the filing of a false tax return, and ten years in prison for stealing government property, respectively.
On July 7, 2022, U.S. District Judge George J. Hazel plans to hand down sentences to both defendants.
Deputy Assistant Attorney General Stuart Goldberg of the Justice Department's Tax Division and U.S. Attorney Erek L. Barron praised IRS-Criminal Investigation's work in the case.
Barron and Goldberg praised Assistant US Attorney Michael Morgan and Tax Division Trial Attorneys Jeffrey McLellan and George Meggali, who is prosecuting the case, for their hard work and dedication.