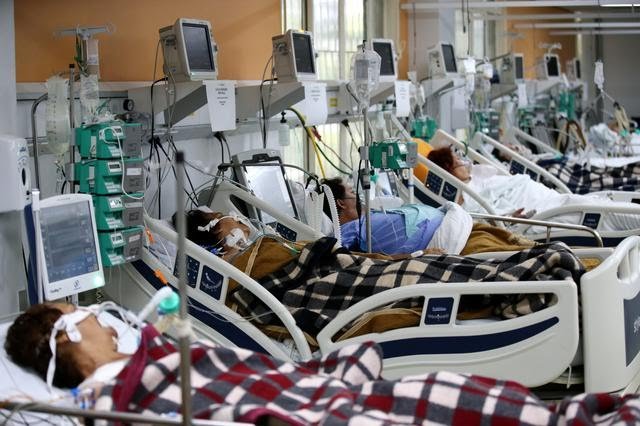 Covid-19 Unvaccinated People to Blame for Filled Hospital Beds in the U.S.
A woman whose father was diagnosed with Sepsis in Iowa died after two weeks of waiting to get a hospital bed has blamed unvaccinated Covid patients for "clogging" hospitals.
Dale Weeks, a retired school superintendent in southern Iowa, went to MercyOne Centerville Medical Center on Nov. 1 after he began to feel ill, his family told the Des Moines Register.
"They told my dad and his wife right away they had no beds," Jenifer Owenson, Weeks' daughter said 
At the time Weeks was admitted, Iowa was in the midst of a fall surge that resulted in more hospitalizations than at any other point of the pandemic save for last winter.
The next day, Weeks was taken to a hospital 80 miles away, where he was given intravenous antibiotics but nothing more could be done to treat the infection, according to the Register.
"In addition to an increased number of COVID-19 cases and spread of the delta and omicron variants, hospitals across the country are dealing with traumas and experiencing multiple types of illness," Marcy Peterson, a spokesperson for MercyOne, told the Register.
"This demand is coupled with a reduced number of staff to care for patients. These challenges can strain available resources and contribute to delays in care or other complications for patients."
Also read: Alexandria Ocasio-Cortez's Among Us Twitch Stream Wins A Guinness World Record
Finally, Weeks was taken to University of Iowa Hospitals on Nov. 17, and it was another nine days before he underwent a 17-hour stomach surgery to treat what one surgeon said was one of the worst infections he'd ever seen, the Register reported.
Two days after the surgery, on Nov. 28, Weeks died at the age of 78.
"It's infuriating that people who are not vaccinated are clogging [hospitals] up," Owenson told the Register. On Tuesday, Owenson told the Washington Post: "It was terribly frustrating being told, 'There's not a bed yet'… There was this logjam to get him in anywhere."
As of Tuesday, unvaccinated people made up more than 80 percent of COVID-19 patients in Iowa hospitals, and 83 percent of those in the ICU, according to the state health department.
Weeks is unfortunately not the first non-COVID patient to die while being denied healthcare due to an overrun system. In August, 46-year-old U.S. Army veteran Daniel Wilkinson went to a hospital in Texas suffering from gallstone pancreatitis—a treatable illness—while doctors raced to find a hospital with the capacity to treat him. He was airlifted to a hospital in Houston, but it was too late, and he died.
And in September, 73-year-old Alabaman Ray DeMonia suffered a cardiac event and died after being turned away from more than 40 ICUs that didn't have the capacity to treat him, his family said.
"In honor of Ray, please get vaccinated if you have not, in an effort to free up resources for non COVID related emergencies," DeMonia's family wrote in his obituary. "Due to COVID 19, [Cullman Regional Medical Center] emergency staff contacted 43 hospitals in 3 states in search of a Cardiac ICU bed and finally located one in Meridian, Mississippi. He would not want any other family to go through what his did."