School districts in some areas have made the choice to close as a precautionary measure ahead of possible inclement weather expected in the coming days. A number of other businesses are closing as a result of staff shortages caused by COVID-19.
As of this writing, the following are the upcoming school closures that have been announced in the Central Texas area: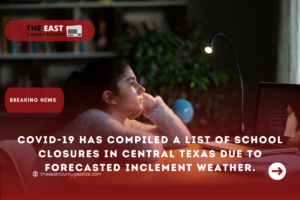 Granger ISD 
Granger Independent School District Superintendent Jeni Neatherlin announced in a letter that the school system will be closed on Thursday and Friday this week. Drive-thru lunches will continue to be available from 10:30 a.m. to 1 p.m. on Monday through Friday.
Schools are closed "for a variety of reasons," including "staffing and student attendance issues, community spreads and outbreaks of both flu and COVID-19, as well as significant weather dangers," according to the district.
The next day of school will be Monday.
Read More: IRS Filing Deadline Is Early – Here's Everything You Can Expect From Your Refund

Liberty Hill ISD
COVID-19 has produced "record" personnel shortages in the Liberty Hill Independent School District, which will force the district to close its doors on Thursday and Friday. The district anticipates that normal activities will return on Monday.
Pflugerville ISD is a public school district in the city of Pflugerville, Texas.
Schools and offices in the Pflugerville Independent School District will be closed on Friday and Monday, according to a letter from the district.
School officials stated that staff employees were absent because of COVID-19 and that those who remained were unable to adequately cover lessons, stating that "the personnel shortfall has overburdened the District to the point that this closure is required."
PfISD stated that it had built-in additional minutes to its timetable to account for closures, and that it will not be required to use its weather makeup days as a result.
The fact that this is not a break or a holiday must be stressed, and we encourage everyone to spend as much time at home as possible during this time." Keep in mind that the previously extended hiatus was the catalyst for this current rally.
If you are planning a trip or spending extended amounts of time with persons outside your typical circle, the district asks that you refrain from doing so during this time."