Completed Is The First Phase Of The I-15 Widening Project, Which Eased Traffic Congestion At The Nevada State Line
LAS VEGAS, Nev. Visitors driving back to California from Las Vegas After Thanksgiving, drivers on Interstate 15 may benefit from the start of work to improve traffic flow at the California-Nevada state line.
The interstate has three lanes on the Nevada side, but the California side has historically only had two lanes. Usually, the bottleneck is what causes congestion, especially after a busy weekend.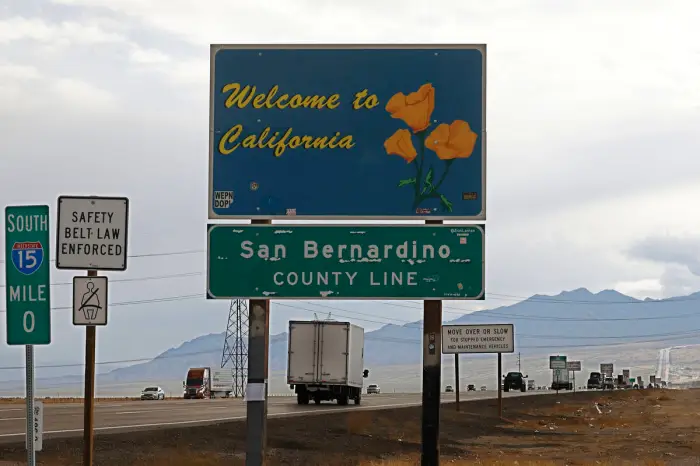 Caltrans, however, told on Monday that they had completed work on a "one-mile transition lane" on the California side of the border heading south. Last December, the governor of California announced the project for the first time.
"Repaving, restriping, and using"one-mile transition lane" heading south on the California side of the state line said California Governor Gavin Newsom, a Democrat.
The one-mile widening is the first phase of Caltrans' project. Which complete almost a year ago.
"All construction area signs will be removed this week," said Carolina Rojas. California Department of Transportation Public Information Officer.
The shoulder on the California side of the state line can now use as a part-time lane.
The expanded section, according to Rojas, will use during peak congestion, primarily on Sundays and Mondays. When traveling from Nevada to California.
Prior to this, leaders in Las Vegas and tourism-related stakeholders express relief that something done following many years of inaction.
"I am overjoyed that the governors have finally met to take a look. Start addressing something," said Carolyn Goodman, Mayor of the City of Las Vegas.
"It allows us to begin a real conversation with California," said Steve Hill, President, and CEO of the Las Vegas Convention and Visitors Authority. "Having a pilot program, something that is a trial, allows us to interact with each other and ask, 'Is this working?'" 'Could other things work?'"
For the time being, only a one-mile stretch south of the state line is widened. Newsom promised to widen the interstate for five miles.
"The project will rehabilitate five miles of pavement," Caltrans told on Monday. Rojas added that they do not have any additional information to share about the project's ongoing efforts.
Last year, Newsom addressed concerns about a permanent third lane.
"We have to work with our partners, including CHP, on the longer-term strategy of making a third lane permanent or providing more relief," Newsom said.
According to Rojas, clarity on the next phase of the project's timeline is "expected in the coming months."
According to state officials, more than 11,000,000 visitors use I-15 to enter and exit Las Vegas yearly. That is more than enough people to fill Allegiant Stadium 169 times.