Closing the United States Postal Service, laying off 600,000 employees, and closing 31,000 offices
Because the United States Postal Service is slow, inefficient, and badly run, it may be replaced by private enterprise. USPS has been a thing of the past for several years now.
It has 31,000 offices, some of which are in places where there are so few people that they do not receive enough foot traffic to be financially sustainable. It employs more than 644,000 people, more than half of whom are eligible for highly generous benefits, which are principally negotiated by the American Postal Workers Union.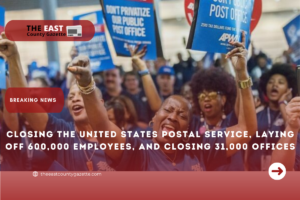 It is enough to bankrupt the United States Postal Service just to cover the expense of these benefits, which will be paid to present and future retirees. The labor situation is comparable to that of the automobile manufacturers prior to their demise.
Putting an end to the USPS would allow the federal government to outsource its mail delivery to companies such as FedEx and UPS, both of which are immensely successful and do not rely on government financing.
They are unquestionably huge enough to operate the business as a collective. FedEx employs 600,000 people and generates approximately $100 billion in sales every year. UPS employs 540,000 people and generates $90 billion in sales every year.
The United States Postal Service's 31,000 locations might be auctioned, with the proceeds going to the Treasury. UPS or FedEx, on the other hand, could lease them out as fulfillment facilities. Operating expenses for each of these offices will be removed from the equation entirely.
The United States Postal Service (USPS) operates a number of outdated fossil-fuel-powered vehicles. The vast majority of these would be put out of operation immediately.
The closure of the United States Postal Service would put an end to the myth that mail must be delivered six days a week. The distribution of daily mail provides absolutely no benefits. Regular mail delivery is nothing new for FedEx and UPS, which have years of experience.
Three deliveries every week, at the very least, would be sufficient. This would be the financial obligation of UPS and FedEx, and they would not be able to do so without the assistance of the government. There would be a cap on the amount of money they may charge businesses and individuals for mail, however, it could be higher than existing rates.
Enough people across the country have not been sufficiently urged to utilize email for correspondence and business papers. Despite the fact that email is used for a significant amount of communication in the United States, the United States Postal Service has no incentive to aggressively market it as a low-cost choice.
For transactions involving payments, the same is true: practically all of them can be completed electronically, saving businesses thousands of dollars in administrative costs while saving consumers money on first-class stamps for sending in checks.
Closing down the United States Postal Service. Its monetary worth has all but vanished.