According to the findings of a new study, classes taught by the same teacher have a lesser quality of instruction when they include higher proportions of Black and Latinx students.
According to the study's lead author, Hua-Yu Sebastian Cherng, associate professor of international education at New York University Steinhardt, "previous research has revealed different forms of racial inequality within the United States schooling system, including that youth of color, tend to be taught by less experienced and credentialed teachers, but virtually no work has examined inequalities in the primary responsibility of teachers: how teachers actually teach."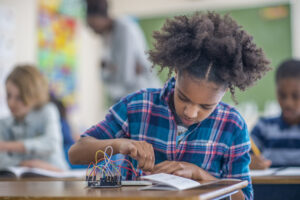 "Our findings revealed a bias that is consistent with previous research on racial biases, and specifically anti-Blackness, that is ubiquitous in U.S. education and society, and they highlight the significance of improved teacher preparation in this country."
Read More: Millions of Drivers to Receive Car Insurance Checks $400. How Will It Be Distributed?

The researchers examined data from the Measures of Effective Teaching database obtained during the academic years 2009-2010 and 2010-2011 to evaluate whether disparities in teaching quality are mostly attributable to differences across teachers (e.g., qualifications) or variances among teachers (e.g., bias).
English language arts (ELA) and mathematics teachers in grades four through nine are the subjects of this study.
The findings are detailed in their article, "Teaching Bias? The American Journal of Education released an article titled "Relationships between Teaching Quality and Classroom Demographic Composition."
Two in-classroom observer ratings (the Framework for Teaching and the Classroom Assessment Scoring System), as well as students' advances in standardized test scores, were used to assess teaching quality, according to the researchers.
Teachers' qualifications, for example, accounted for nearly half of the disparities in classroom teaching quality, while the remaining half might be attributable to factors such as prejudices within the teaching profession, the researchers discovered.
The association between teaching quality and classroom demographics was stronger in mathematics courses than in ELA courses when comparing the two courses.
According to the authors, this conclusion could be explained by the impression of mathematics as a natural skill, as well as a higher level of prejudice among mathematics teachers, as discovered in prior research.
"We also discovered that instructors from a variety of racial/ethnic backgrounds exhibit the same patterns in teaching that disadvantage black kids, suggesting that all teachers, not just white teachers, could benefit from improved training and development," the authors wrote in their paper.
Although teachers of different races have varied motives for teaching in ways that harm Black students, according to the authors, these disparate reasons are likely a reflection of the historically and racially polarized character of education.
Read More: U.S. Senate Passes $768 Billion for Defense and National Security
According to Cherng, the findings of the study come at a time when legislators in the vast majority of states are attempting to restrict the teaching of race in schools.
Teachers, who as a profession are dedicated to serving future generations, will continue to be underprepared with the tools necessary to offer all students an equal education if these dialogues do not take place.
Additionally, Peter F. Halpin, associate professor at the University of North Carolina in Chapel Hill, as well as Luis A. Rodriguez, assistant professor of educational leadership and policy studies at New York University Steinhardt, contributed to the study.