The Chicago Food Stop on the Magnificent Mile provides tourists with a taste of the city's diverse neighborhoods without taking them out of the surreal shopping experience that is the Magnificent Mile.
The Chicago Food Shop, located on the first floor of 875 N. Michigan Avenue, was opened as part of the city's COVID-19 rehabilitation program in collaboration with World Business Chicago and the Mag Mile Association.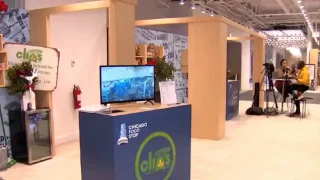 The city has paid for all of the neighborhood businesses' rent, buildout, and other initial expenditures associated with moving into this location, according to Natalia Kapani, Director of Public Sector Investment Strategy at World Business Chicago.
"We have an investment in neighborhood businesses, but we are moving them to the mag mile to ensure we have foot traffic back here, for not only the Hancock Tower but for all of the companies that are along the corridor."
Our partners at World Business Chicago include: Here Here, Market is a Chicago-based marketplace selling curated gift boxes, artisanal items, and other culinary pleasures made by well-known and up-and-coming chefs, restaurateurs, and food artisans.
Bringing together South Side merchants from the Greater Chatham Initiative's Food Labs Program. We'll highlight a new store or vendor each month to support local businesses in Chicago.
Student workers from Chicago's High School for Agricultural Sciences man a temporary storefront. You may find an incredible new vending machine in Chicago called Farmer's Fridge.
The Chicago History Museum is presenting an exhibit of images from the Chicago Sun-Times collection. Chicago Food Stop, a temporary restaurant located on the ground floor, is already open and will be there until at least March 2023.
Source: NBC Chicago