President Joe Biden provided a massive stimulus to the economy, which resulted in historic job growth but also contributed to the highest inflation rates in four decades, according to the Congressional Budget Office. He's now pinning his hopes on the Federal Reserve to come to his assistance.
The economy grew at a blistering 5.5 percent rate in 2021, wage increases have outpaced their pace prior to the pandemic, and unemployment has dropped to 3.9 percent, according to the Bureau of Labor Statistics.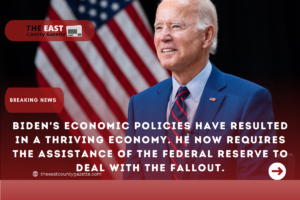 Price increases, on the other hand, are eating away at people's paychecks and increasing their anxiety about the future. As a result, Biden receives little credit for the recent economic expansion.
Furthermore, the White House has few immediate options for containing inflation while it waits for the production and shipping logistics to be resolved. Instead, Biden will have to rely on the Federal Reserve to bring prices under control through interest rate hikes while not jeopardizing the economic recovery.
As Jason Furman, a Harvard professor who served as the White House's top economist under President Barack Obama and his close to President Joe Biden, put it, "the only two levers for bringing inflation down are patience and the Federal Reserve."
Read More: A Federal Judge in Alabama Has Ruled That the State's Redistricting Violated African-American Voting Rights.

Fed Chair Jerome Powell has accepted the challenge, telling reporters on Wednesday that the central bank has "quite a bit of room" to raise interest rates. Even this, however, is not without risk:
When the Federal Reserve raises borrowing costs to bring inflation down, it has a history of triggering recessions. The stock market has already experienced dizzying swings as investors try to figure out what higher interest payments might mean across the corporate landscape.
Recent developments have revealed that Vice President Biden and his advisers have become more clear-eyed about the economic challenge, abandoning their initial dismissal of rising inflation and acknowledging that rising costs will continue to weigh on the recovery for months to come.
In a press conference earlier this month, the president acknowledged that the Federal Reserve will have to deal with the inflation problem. "The Federal Reserve has an important role to play in ensuring that the elevated prices do not become entrenched," he said.
For the foreseeable future, inflationary concerns will continue to hang over the president's domestic agenda, dampening any political benefit Biden might receive from overseeing rapid wage increases. According to a recent Gallup poll, roughly half of Americans believe that inflation is causing financial hardship for their families.
As it turns out, those wage increases may eventually contribute to the problem, as worker shortages exacerbated by the pandemic may lead employers to raise prices as their labor costs rise, a situation that feeds inflation even further in contrast to pay raises that reflect a more productive economy.
According to a report released on Friday by the Labor Department, employers' compensation costs increased by 4% last year, the largest increase in more than two decades.
It is still up in arms about how to bring the pandemic under control. It has been an exhausting battle that has left Americans exhausted and cast a pall over an otherwise booming economy.
Read More: New Bonus Checks Coming Out, Find Out Who Are Eligible?

The upcoming jobs report for January is expected to show some temporary damage as a result of Omicron's decision to keep sick employees at home for the month of January.
Interior White House officials have grown increasingly convinced that the prolonged health crisis continues to be the single most significant factor affecting the nation's mood — and President Joe Biden's approval ratings.
"Biden is not getting any credit for the positive economic data," said Carly Cooperman, the CEO of Schoen Cooperman Research, a Democratic pollster and Democratic strategist.
Voters are unlikely to give Biden credit for the country's strong economic growth as long as they believe the cost of living and their day-to-day expenses are high, and that their paychecks are not going as far as they used to."
Biden, for his part, has sought to make it clear that his administration will do more than simply wait for the Federal Reserve to act. It has devoted significant resources to addressing supply chain issues and boosting manufacturing, and it has vowed to take a tougher stance against anti-competitive practices that it believes have resulted in price increases.
As part of his stalled social spending bill, Biden asserted that its investments would lower the cost of prescription drugs and child care while also slowing inflation. Biden also argued that the bill's investments would reduce the cost of prescription drugs and child care while also slowing inflation.
"It's real, and it's causing a lot of people problems," he said of the inflation spike during a speech in Pittsburgh on Tuesday. Working families should have less stress, and everything should be more affordable and accessible, says the president.
As a part of its effort to break through voters' broader sense of doom, the administration is also attempting to increase its emphasis on the positive aspects of the economy's trajectory. This includes emphasizing workers' rising wages and the declining unemployment rate, among other things.
"It's critical that we don't lose sight of the big picture," a senior White House official said. We must try to communicate the extent to which our policies have resulted in an extremely healthy economic backdrop.
Officials, on the other hand, believe that it is past time for the central bank to change its strategies and begin to rein in spending, which has resulted in supply chain problems in recent years.
As a senior official put it, "We think of the Fed as driving a big fire truck to a fire," adding that the administration's job was to "make sure the best people are driving the truck." No, we're not going to sit next to them and shout "left," "right," and other such commands."
The Fed chairman, Jerome Powell, took the initiative to combat rising prices during his press conference on Wednesday, leaving the door open to whatever actions are required to bring inflation down.
In his words, "we believe that the best thing we can do to support continued labor market gains is to promote a long expansion, which will necessitate price stability." In addition to supporting the economy and a strong labor market, "we will use our tools to prevent higher inflation from becoming entrenched," says the Fed.
At least some of the inflation picture, on the other hand, is likely to be beyond the control of the Federal Reserve.
Because of skyrocketing demand that has overwhelmed supply chains, price spikes have appeared, but the Federal Reserve can only influence spending, which is the demand side of the equation, not the supply side. In addition, strong consumer demand is critical to sustaining the recovery.
As Dana Peterson, chief economist at The Conference Board, which publishes economic indicators, explained, "the Federal Reserve can't do everything." "Once again, some of these pressures are related to the pandemic. As a result, the Federal Reserve has no influence over whether or not a factory opens or closes in China."
Other White House officials have recently taken heart from subtle signs of improvement, pinning their hopes on forecasts that predict inflation will be cut in half by the end of the year.
However, he cautioned that some issues, such as the semiconductor shortage that is driving up car prices, could take years to resolve. Powell expressed optimism that progress on supply chain snarls will be made in the second half of 2022.
Furman said that while the government's haste to keep the economy afloat during the pandemic prevented major disruptions, it also meant that those who benefited from the influx of aid did not fully appreciate the progress made under Biden's administration.
Read More: 1.15 Billion Dollars to Boost Abandoned Oil and Gas Wells Under Biden Administration
As a result, they are reluctant to give him credit for the broader recovery, even as they accuse him of causing inflation.
According to Furman, "the administration should do everything it can to combat inflation, even though it will only have a marginal impact on the overall situation." "I believe that inflation will remain uncomfortably high for the majority of this year."