Arrested Atlanta rapper Young Thug facing new charges over alleged I-85 incident
Although his trial date has not yet been set, Atlanta rapper Young Thug is facing additional charges as he waits in jail. These charges are part of a sweeping gang indictment in Fulton County.
Rapper Jeffery Lamar Williams, 30, was hit with four new counts last week after being indicted on two others by a grand jury. The new charges cover various dangerous driving behaviors, from street racing to extreme speeds.
According to the official report, the incident allegedly prompted the charges to occur on May 21, 2021. Williams is suspected of speeding at around 120 mph in the southbound lanes of I-85, not far from the on-ramp to I-75 northbound.
The police also claim that the rapper was speeding on the interstate without a seatbelt. The four counts against you are all minor infractions. Williams was arrested in May 2022 alongside the rest of the Young Slime Life gang members and is still held in custody at this time. The jury selection process for his trial is scheduled to begin on January 5, 2023, and the test is expected to start in January.
YSL Young Thug makes a court appearance
Rapper Young Thug, real name Jeffrey Williams, was re-indicted by a Fulton County grand jury last week on additional gang-related charges. Williams, according to the prosecution, started the Young Slime Life gang.
In addition to Young Thug and Gunna, 27 others were indicted in Georgia in May under the Racketeer Influenced and Corrupt Organizations Act (RICO). The 88-page indictment alleges that they are associated with the Young Slime Life (YSL), a branch of the Bloods criminal organization. All of the indictees have been accused of participating in violent crime in the city since 2012, according to the prosecution.
In May of 2022, Young Thug, Martinez Arnold (aka Duke), and Deamonte Kendrick (aka Yak Gotti) were charged with drug possession and distribution. The indictment states that they had several firearms, including a GLOCK 357, an FN firearm, a GLOCK 19, a Smith & Wesson M&P, and a GLOCK 45 with a "converter switch and extended magazine." Another firearm possession charge was filed because the GLOCK 45 converted to a machine gun.
There are now 65 charges pending against the 28 defendants. Three more people were added to the indictment: Deamonte Kendrick (Yak Gotti), Shannon Stillwell (Shannon Jackson/SB), and Quamarvious Nichols (Qua).
Prosecutors say Williams helped found the so-called YSL street gang. The indictment also includes evidence from Williams' social media posts and rap lyrics that refer to YSL, as well as a detailed account of various violent crimes committed by alleged members of YSL.
In addition to being involved in criminal enterprises like street gangs and drug dealing, Young Stoner Life Records' founder is accused of illegally possessing multiple firearms, including a modified machine gun.
The judge initially denied the bond and ruled against the elaborate house arrest arrangement. Williams' 2015 threat that "anyone goes into the courtroom and tells the god's truth, they'll be f—-ing killed" was introduced as evidence, among other things. The judge said he might threaten society, though the threat's validity would have to be established in court.
Williams could spend the next twenty years behind bars and pay a $250,000 fine if he is found guilty of RICO. Young Thug appreciates his fans' love and attention and asks that they help prevent black art from being used as evidence in court by signing a petition on his behalf.
The RICO Act prohibits the financing, operation, or participation in any Racketeer Influenced and Corrupt Organizations. Congress enacted RICO, or the Racketeer Influenced and Corrupt Organizations Act, to combat organized crime. Acting on a bill introduced by Senator Frank Lautenberg, President Richard Nixon signed it into law in 1970.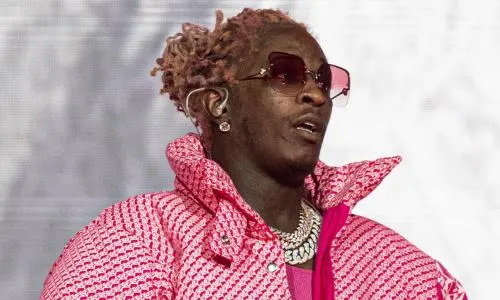 The federal government's RICO statute was created with anti-Mafia intentions in mind. It includes 27 federal and eight state offenses committed multiple times over ten years. Fraud, theft, computer crimes, embezzlement, credit scams, investment schemes, human trafficking, illegal gambling, bribery, kidnapping, murder, money laundering, counterfeiting, and various drug charges are examples of such crimes.
Using RICO, the Justice Department has brought down numerous criminal organizations and cleaned up the police forces in several cities. In addition to prosecuting businesses that violate federal law, prosecutors have used RICO to dismantle several street gangs.
While similar to federal law, Georgia's RICO statutes are more permissive in that the duration of the criminal "enterprise" is not a factor. Only 33 states, including Georgia, have their own RICO laws. However, a criminal enterprise pattern is required in state and federal law.