Republicans have been hammering Democrats on rising gas and grocery prices, nicknamed "Bidenflation." By next year's elections, that onslaught may be worn out.
Price declines in commodities ranging from oil to natural gas to wheat and corn have already begun. As a result, customers will pay less for gas and groceries in 2022, helping President Joe Biden's party retain control of Congress.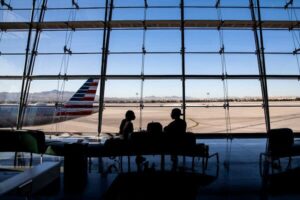 The government is poised to report another month of decades-high inflation on Friday, and the issue won't go away next year. Shipping delays, coupled with slow-moving but longer-lasting cost hikes like rent, may cause the Federal Reserve to raise interest rates and hinder economic activity. But the most intensely felt prices by voters may tell a stronger tale for Democrats in the midterms.
Read More: Bottlenecks at U.S. Ports Make Shipping Business Difficult
According to Jason Furman, a Harvard Kennedy School professor, and former Obama administration official, "the politically relevant element of inflation is practically the exact opposite of the economically relevant part." "People care about pricing, especially the most regular and transparent ones, like gas and food."
As a result of increased global production and concerns about the Omicron variant of the coronavirus, the White House has already begun to capitalize on the recent decline in crude oil prices. The decision to unleash 50 million barrels of oil from U.S. reserves was also noted.
According to White House Chief of Staff Ron Klain, "Gas prices are down." "They are expected to fall…"
Fuel prices are expected to average $2.88 per gallon next year, down from $3.39 in November.
One in five Americans is concerned about rising food and gas prices, according to a Wall Street Journal study published this week.
Republicans have harped on this point so much — Florida Sen. Rick Scott dubbed it a "gold mine" for the party — that White House Press Secretary Jen Psaki accused them of "rooting for inflation."
"Look at what inflation is doing: It's harming the poorest families who are struggling to pay gas, food, and a home," Scott stated on Fox News this week.
The largest thing that could show Republicans wrong about overall inflation is a rise in energy prices next spring and summer.
But barring unanticipated shocks, oil prices have likely peaked, says Al Salazar, vice president of intelligence at Enverus. The Organization of Petroleum Exporting Countries is increasing output, lowering prices, and big economies are shifting to alternative energy sources to meet winter heating bills, which may be warmer than predicted.
Read More: Inflation Not Reflective of Economic Realities, Says Biden

"We have all this new supply coming up, seasonal demand weakening, and now Omicron," Salazar said. "Travel restrictions are likely to occur, resulting in a natural surplus."
Prices may rise in the second half of next year, but "I don't think you'll have high prices" given the expected supply, notably from US oil producers, he added.
In midweek trading, crude oil was around $72, down from late October's peak of $84, but still above the $59 price in December 2019 before the pandemic.
Salazar expects prices to be in the low $70 to upper $60 area next year, resulting in lower gas costs; gas prices follow crude prices by only a few months.
Global production might potentially lower prices for staple crops like corn and wheat. Because the US exports food, the more other countries produce — or the longer supply chains hold perishable items in stock — the lower commodity prices.
"Our best pricing was in May, June, and July," said Chad Hart, an agricultural economist at Iowa State. "I see prices lowering on both the agricultural and cattle side."
Crop prices were at $5.85 per bushel midweek, down from a high of $7.72 in May, but still up from $3.66 before the pandemic. But markets expect the negative trend to continue for a few years.
Consumers may not feel as much relief from those gradual drops. In contrast, commodity prices can change quickly in both directions. Those expenditures range from packaging and storage to shipping and marketing, he continued.
But reduced crop prices could keep supermarket prices from climbing as substantially as they did this year.
How long will price hikes in other sectors of the economy continue? For years, rent, which accounts for the bulk of most tenants' monthly expenses, has been driving up overall inflation. Meanwhile, central bank officials say that "strong demand often permitted firms to raise prices with minimal pushback."
Commodity prices falling across the board — from steel to cotton — should help bring down overall inflation readings.
Skanda Amarnath, executive director of the worker advocacy group Employ America, said the development could also indicate that supply chain difficulties are beginning to be handled.
"Next year, we'll be more mature in our recovery," he remarked. "Growth will be weaker next year, but there is evidence that manufacturing capacity, notably in Asia, will improve. The signs from commodities prices seem to support the healing story."