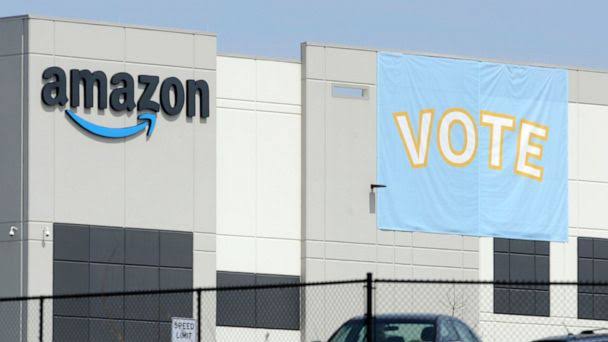 Amazon Workers in NYC Win Historic Labor Victory by Voting to Unionize
Staten Island Amazon workers voted to unionize on Friday, marking the first successful organizing attempt in the company's history and awarding the win to a nascent group that sparked the union drive
According to APnews, the struggle was supported by 2,654 warehouse workers, or about 55%, while 2,131 employees voted against the union.
Although the victory was a victory for the independent group made up of former and current workers, it was an uphill battle with a deep-pocketed corporation out-gunning them.
A former Amazon employee, Chris Smalls ushered in the victory with other union organizers chanting "ALU." They uncorked champagne to celebrate, and Smalls called on fellow Amazon workers across the company to unite.
"I hope that everybody's paying attention now because a lot of people doubted us," he said.
Smalls hopes that workers in other facilities will be emboldened by the success in New York to organize for themselves.
According to a statement on Amazon's company website, the company is evaluating its options following the election.
"We're disappointed with the outcome of the election in Staten Island because we believe having a direct relationship with the company is best for our employees," its post stated.
"We're evaluating our options, including filing objections based on the inappropriate and undue influence by the NLRB that we and others (including the National Retail Federation and U.S. Chamber of Commerce) witnessed in this election."
In response to Amazon's statement, NLRB spokesperson Kayla Blado noted that the independent agency is mandated by Congress to enforce the National Labor Relations Act.
"All NLRB enforcement actions against Amazon have been consistent with that Congressional mandate," she stated.
Director of retail studies at Columbia University, Mark Cohen, said he does not see how unionizing Amazon will help workers.
He said Amazon is a "highly disciplined and regimented" business willing to pay premium wages at tbe demands of tremendous output from workers.
"Amazon is not going to change their culture because there is now a union in their midst," Cohen said. ""They might be forced to let people work eight hours but those people will make less money."
Given the company's massive size and dominance, Amazon has long been considered a major prize for the labor movement. White House officials were impacted by the Staten Island election victorious results.
"The president was glad to see workers ensure their voices are heard with respect to important workplace decisions," White House press secretary Jen Psaki said at Friday's briefing about the vote. "He believes firmly that every worker in every state must have a free and fair choice to join a union and the right to bargain collectively with their employer."
Tristan Dutchin, a retailer for Amazon who joined the union a year ago, is hoping that the union will lead to better working conditions at his jobsite.
"I'm excited that we're making history," Dutchin said.
"This will be a fantastic time for workers to be surrounded in a better, safer working environment."
On the other side, Greenaway voted against unionizing but said she will be patient to see if things turnout positive.
"We can't take back our votes," she said. "I'll give things a chance, but let's see if they deliver on what they promised."