According to the latest data, more than 21,000 San Diego college students are eligible for CalFresh food assistance.
An investigation by the California Policy Lab at UC Berkeley discovered that more than 21,000 San Diego college students and 260,000 college students across the state are getting food aid through the CalFresh program, according to the report.
The program provides qualifying students with up to $250 per month in food assistance for grocery expenses.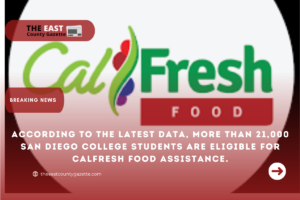 UC Berkeley's California Policy Lab hosted an interview with Elise Dizon-Ross, a postdoctoral fellow at the California Policy Lab and co-author of the new report, on KPBS Midday Edition to discuss the findings.
Dizon-Ross stated that the information contained in this report will assist in determining how to allocate resources to students who are eligible for food assistance but are not currently receiving it.
"With the community colleges and the University of California, as well as the California Student Aid Commission and the Department of Social Services, we've formed a partnership, and they're all very interested in learning how well they're reaching this population,
in part because pretty much all of our partners believe that the number of students who are actually on CalFresh is significantly lower than the number of students who are likely eligible for it," Dizon-Ross explained.
"There are hundreds of thousands of students who are qualified for — and deserve — these benefits, but who are not receiving them," says the professor.
As a whole, approximately 10 percent of community college students are enrolled in the CalFresh program, while approximately 12 percent of UC undergraduate students and approximately 4 percent of UC graduate students were enrolled in the program during the academic year 2019-2020.
Information regarding qualifying requirements for students, as well as for instructions on how to apply for CalFresh benefits, may be found on the California Fresh website.