A new arrangement has been reached in the Purdue bankruptcy case regarding the opioid issue in the United States.
According to a court filing on Thursday, the Sackler family would pay up to $6 billion to redress losses related to the opioid crisis in the United States under a revised Purdue Pharma bankruptcy plan, which was reached after an agreement with holdout states.
The agreement increases the amount of money that the Sackler family, who owns Purdue, must pay, but it also protects family members from future claims in civil court.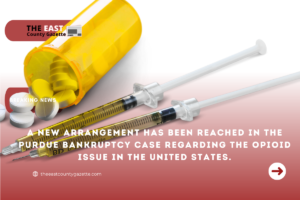 After a US district judge in December ruled down the first bankruptcy plan, a modified version of the plan still needs to be approved by a bankruptcy judge in the United States.
The previous agreement had received support from 40 states in the United States, but it was rejected by nine states, who contended that the family should not be granted protection from future claims.
Following the sale of overseas businesses, the Sackler family will be required to pay $5.5 billion-plus an additional $500 million, which will not have an impact on any potential criminal charges against the Sacklers.
The Sacklers would have had to pay an additional $4.3 billion to the United States Justice Department on top of the $225 million they had already paid to the US Justice Department under the previous agreement.
Over the past two decades, the opioid addiction pandemic has resulted in more than 500,000 overdose deaths in the United States.
Purdue Pharma, which was facing an avalanche of litigation, pled guilty to three felony charges last year in connection with its aggressive campaign to push sales of OxyContin, a highly addictive prescription drug.