At least 32 people died in a devastating winter storm on Christmas Day in the eastern US.
A snowstorm cut off Buffalo, New York, and made it hard for emergency workers to get to the worst-hit areas.
New York Governor Kathy Hochul, a Buffalo native, stated, "It is like going to a war zone, and the automobiles along the sides of the roadways are terrible."
Life-Threatening Situations
Eight-foot (2.4-meter) snow drifts and power outages have created life-threatening situations.
Hochul told reporters Sunday evening that people were still in a "very serious life-threatening scenario" and to stay inside.
Although the five-day storm with blizzard conditions and fierce winds showed signs of diminishing, over 200,000 people in many eastern states woke up without power on Christmas morning, and many more had their holiday travel plans disrupted.
Also read: Massive US storm unleashes tornadoes to the South and threatens blizzards
Over the weekend, inclement weather delayed Christmas visitors by cancelling thousands of flights and stranding locals in ice and snow-covered homes.
32 people have died because of the weather in nine states, including at least 13 in Buffalo's Erie County, and officials think there will be more.
Conditions are Terrible
Officials said that the situation in Buffalo was the worst it had ever been, with whiteouts lasting for hours and bodies being found in cars and snow banks as rescue workers looked for victims.
Erie County's driving prohibition and international airport closure continue until Tuesday.
Hochul stated the "blizzard of 22" had exceeded the region's 1977 record snowfall in "intensity, length, and fury of the winds."
One frozen substation was buried under 18 feet of snow, a senior county official said, preventing some people from regaining electricity until Tuesday.
Lake-effect snow was causing blizzard conditions in western New York's Great Lakes area Sunday, with "further snow accumulations of 2 to 3 feet through tonight," according to the National Weather Service.
One Buffalo couple, across the border from Canada, told AFP Saturday that they would not travel 10 minutes to visit their relatives for Christmas due to impassable roads.
"It's terrible because the circumstances are simply so bad… a lot of fire departments aren't even sending out vehicles for calls," said 40-year-old Rebecca Bortolin.
Millions Faced Travel Nightmare
Flightaware.com said that the storm, one of the worst in decades, cancelled about 3,000 US flights on Sunday, 3,500 on Saturday, and nearly 6,000 on Friday.
Atlanta, Chicago, Denver, Detroit, and New York airports had travellers stuck on Christmas Day.
Road ice and whiteouts closed several of the nation's largest transit arteries, including Interstate 70.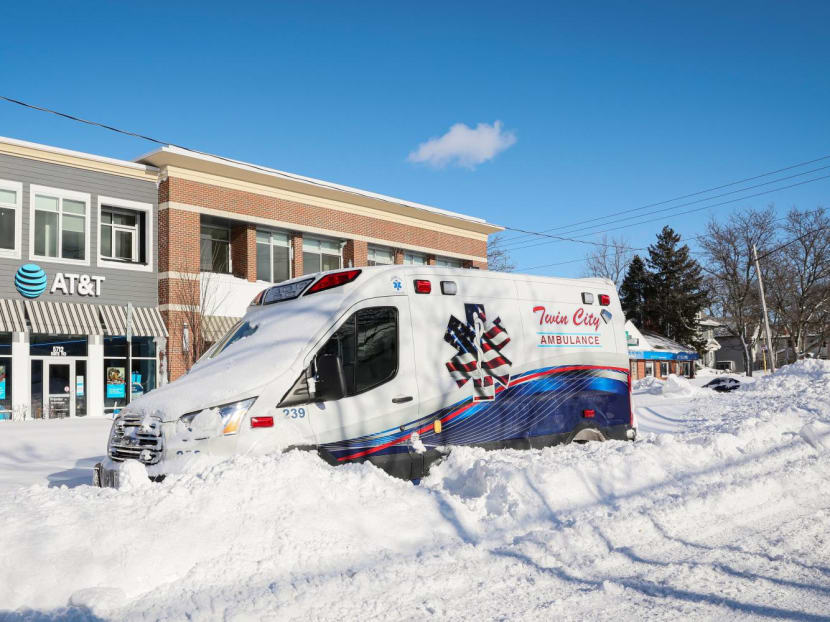 Also read: USA Hit By 'Bomb Cyclone' Storm
Even during the heaviest traffic season, drivers were advised not to drive.
Several power companies have urged millions of customers to reduce their usage in order to avoid rolling blackouts in North Carolina and Tennessee caused by inclement weather.
Poweroutage.us reported 1.7 million consumers without power on Saturday amid the bitter weather.
By Sunday night, just 48,000 customers in eastern Washington were without electricity.
A Saturday bus crash in British Columbia, Canada, caused by slippery roads, killed four and hospitalised 53, including two in serious condition early Sunday.
Ontario and Quebec lost electricity to hundreds of thousands; major cities cancelled flights; and Toronto-Ottawa rail service was stopped.
Source: https://www.ndtv.com/